Tours
Due North of Vancouver lay the wild and rugged lands and waters of the Pacific Northwest. The magical and pristine Northern Inside Passage is a place where bald eagles, grizzly bears and whales are as numerous as residents. Join us in this remote and pristine corner of the world for the adventure of a lifetime on one of our word-class ecotours.
Grizzly Bear Tour
Whale Watching Tour
CHARTERS
Our extensive fleet of 8 vessels is available year-round for your custom charter needs. Our experienced and hospitable staff is here to provide a safe and memorable experience for your next special event.
Learn more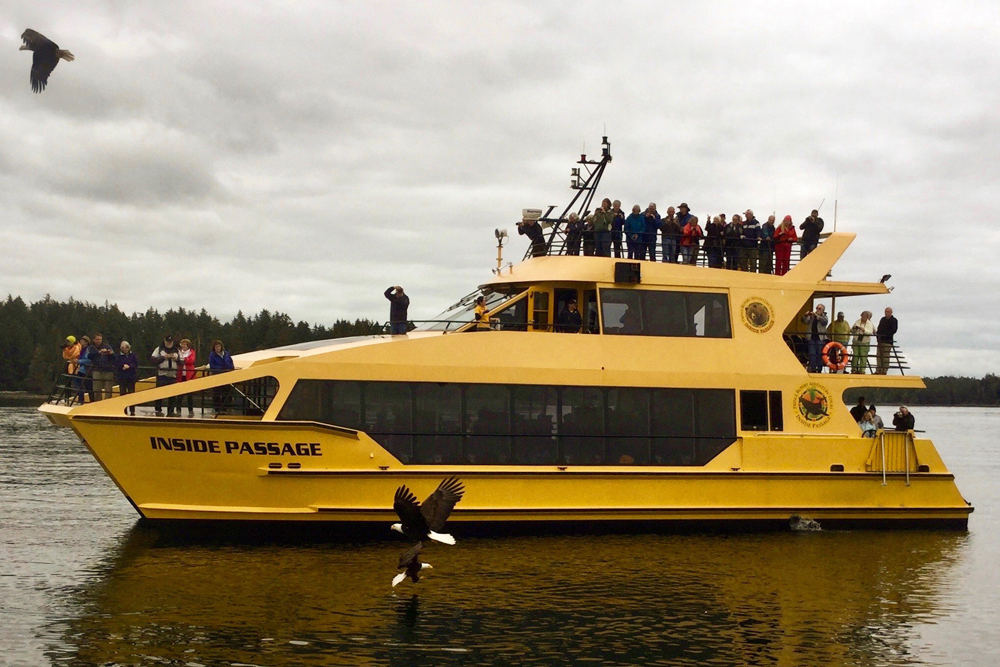 Adventure gallery
Latest feeds from our Instagram account. Please follow us on Instagram to stay connected!!
Whale Watching
"Thank you Doug, Debbie and Crew! What a treat, such an amazing time we had! The vessel was incredible, safe, warm, spacious and clean and tidy the windows sparkled and the vessel was very comfortable. The crew were knowledgeable, engaging, smart and kind and I was truly convinced that they loved their jobs and were passionate about the whales and wished to impart that, as well as to educate and pass on their love of the ocean, the whales and Prince Rupert to their passengers. Our nephew from Ontario was impressed and we felt so proud to have been able to have experienced this with him. Thank you for your pride in and love of Prince Rupert, the whales, the north coast and those that live here, you make us proud to be able to call Prince Rupert home. What a trip!"
Way beyond our expectations!
"There were 4 of us, ages 15-52 and after booking, we wondered if perhaps it was going to be a waste of money. It is quite a bit $, but it was more than worth it. All of the staff were friendly and informative. You could tell they loved their job, even the captain who took pics and air dropped them to all of us. We saw 3 grizzlies, 9 humpback whales, and too many eagles to count. The boat stayed at each animal just the right amount of time, where you didn't feel rushed or bored. The food was good and fresh. Bathrooms clean. Boat was very comfortable and felt safe. The company cared about the bears, the environment and their guests. Excellent customer service! Definitely the highlight of our trip!"
Excellent tour and excellent hosts! Don't miss it!
"This was one of the most thrilling tours, the hosts were wonderful and the boat was spotless! We had several viewings of Grizzlies, the most memorable was a sow running off a young boar that had come too close to her cubs, and another was a mother with 3 cubs. We were also treated to close up viewings of seals and eagles in trees and onshore if that isn't enough it was some of the most beautiful country around. Our next treat was a pod of humpback whales! There was enough time spent at each wildlife encounter that you could get great shots, and there were several levels of the boat to watch from. The finale of the trip involved. I'm not giving this away you will just have to take the trip and be as awestruck as we were. This trip is a 10/10!!"
Best tour ever!!!!!!
"A beautiful day for our June 25th 2019 tour. We see 3 adorable cubs with momma grizzly bear and 4 year old brother & sister from the same momma bear. One of the highlights was about 5 humpback whales feeding. I think the term is called bubbling. I have seen this on National Geo Wild, but to watch this happening was amazing. Captain Doug's and crew were very informative. Captain Doug captured some awesome pictures with his high powered camera and air dropped them to our phone. This was the most awesome tour we have ever been on, and we have been on many. The dozen or more eagle at the end of the trip was the ending of a great tour. Thank you Adventure Tours"
Most Wildlife I've Ever Seen in One Tour
"I confess that I was happy about coming on the tour as soon as I saw the sun was shining. It got much better from there. On the way to the grizzly bear sanctuary, we saw humpback whales bubble-net feeding, which I had never heard of. We saw several bears and, not only did we see them, but we got to see a mother with three cubs and two sibling young bears playing. On the way back, we saw orcas, more humpbacks bubble-net feeding, and to cap it all off several bald eagles. I started joking that there must have been staff members in bear/whale suits. I drove many hours out of my way to Alaska to come to this tour. It was well worth it. It's definitely worth a detour to Prince Rupert just to come on this tour."